2013.07.11 Thursday
Storytelling in English at Obaasan no Chiebukuro
There is a magical little picture book shop in Kokubunji called Obaasan no Chiebukuro (Grandma's Wisdom) that holds small storytelling and musical events for adults and children.
http://ameblo.jp/obaasannochiebukuro/
The shop is owned and run by Mitamura-san who used to run the library services in Koganei City and has always had a passion for picture books and storytelling. Mitamura-san is an active member of the Japan Storytelling Network.
Just like the white rabbit's hideaway, the shop is situated in a street that lies parallel to the main road but is hidden from sight from above and is in a row of tiny and original shops that seem to transport you back to some nostalgic past. Everyone who visits the shop can feel the tingling sensation of magic in the air as soon as they walk through the door.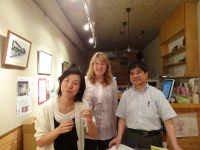 I held a picture book, storytelling and poetry recital with piano accompaniment by Tomoko Yamabe at Obaasan no Chiebukuro on 29th June. The two-hour session included poetry by Robert Frost and Shakespeare, picture books by Jimmy Liao and Niimi Nankichi plus the debut of my own book (co-authored with Mari Nakamura) Lily and the Moon and some of my own real-life stories behind my writing.
Tomoko Yamabe is a truly talented pianist. She composed some original music to accompany the stories as well as improvising. It was a great pleasure to work with her for this event and we hope to collaborate for more events in the future.
As the shop can only hold a maximum of 20 people the seating was choc-a-bloc but everyone enjoyed wine, snacks and a little fresh air outside the shop during the break.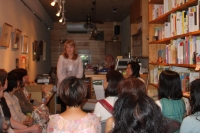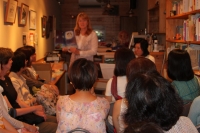 During and after the event a number of us who have a great passion for picture books, poetry and storytelling in English with music were talking about holding such "jamming sessions" with a number of us bringing something to read or recite. And thanks to Chiyuki Yanase's great energy and enthusiasm to get this idea off the ground we have aleady reserved Obaasan no Chiebukuro on September 14th 2013 (Saturday) evening from 5pm-7pm. If you would like to take part or want more information please send me a message here.
We're going to have lots of fun - so hope to see you there!
Trackback

url: http://patricia-oe.jugem.jp/trackback/137