2013.10.02 Wednesday
フェースofワンダー絵本コラボレーション Face of Wonder picture book project
障害を持っている
フェースofワンダー
仲間たちの素晴らしい絵を使って、絵本を作るプロジェクトの一冊目はもうそろそろ出来上がります。
The first picture book using the fantastic art produced in the
Face of Wonder
art workshops for people with disabilities and their friends will soon be complete.
この絵本つくりはグループコラボレーションで、最初に私が英文で書いた「小さな緑カエル」は日本語になって、みんなの考えを何回も話し合って、テキストを変更して、一緒に各ページのアートを選択しました。フェースofワンダー仲間たちのアートはとてもとても想像力豊かの絵ですので、ストーリーも自然に想像世界に入り込みました。
This picture book has been made by a group of us who have met regularly over the past year. I wrote "The Little Green Frog" and we all discussed the story, translated it into Japanese, adapted it and spent a lot of time selecting the artwork for each page. The pictures produced by the members of the Face of Wonder workshops are so expressively creative that the story naturally developed an imaginative depth.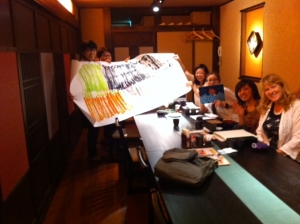 結局タイトルは「ぼくのほし」になりました。
Finally we changed the title to "A Star of My Own."
少し長くて、哲学的な考えも入っていますので、このストーリーは小学高学年より大人まで向きです。
The story is a quite long and includes some philosophical elements and is suitable for anyone from the age of around 10 to adult.
This is the provisional cover: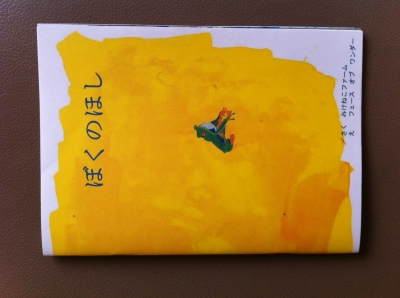 また日本語を英語にしてから、絵本は日本語版、英語版、今年中電子絵本として発売します。
I am going to translate the final back into English and the picture book will be available in both Japanese and English as an e-book later this year or early next year.
Trackback

url: http://patricia-oe.jugem.jp/trackback/140