2013.12.03 Tuesday
Tohoku ELT EXPO 2013
I gave a presentation, "The Many Lives of a Picture Book," at the Tohoku ELT EXPO in Sendai organized by ETJ and JALT on Sunday 24th November 2013.
I showed the many different ways one picture book can be used to build vocabulary, develop discussion, and create games, songs and crafts to aid English learning.
I enjoyed meeting many different teachers, publishers and presenters at the EXPO.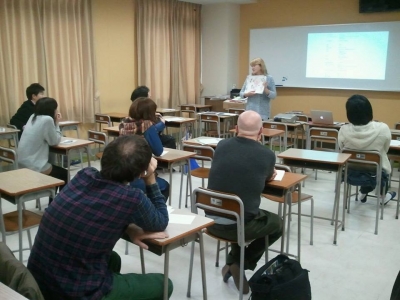 This was my last presentation to teachers this year but I will be holding some storytelling sessions at Christmas parties during December.
I would like to thank everyone who has encouraged and supported me in my presentations this year.
I have really enjoyed meeting so many new people and seeing some truly impressive presentations at these conferences.
Trackback

url: http://patricia-oe.jugem.jp/trackback/149
01
--
1
2
3
4
5
6
7
8
9
10
11
12
13
14
15
16
17
18
19
20
21
22
23
24
25
26
27
28
29
30
31
--
>>
<<
--