2014.06.12 Thursday
Storyland, Nagasaki
I visited Nagasaki from 7th-8th June, invited by JALT (Japan Association of Language Teachers) Nagasaki to give a presentation on using picture books and storytelling to teach English, and by Storyland which is affiliated with Kwassui University and run by Karen Masatsugu who teaches at the university.
It is a magical journey to physically reach Storyland. Firstly, there is the steep climb up Nagasaki's most famous hill, Oranda Zaka, literally translated as the Dutch Slope. At the top of the hill the row of historical and grand homes of former missionaries and traders look down onto the bay of Nagasaki far below. With their pastel shades, spacious rooms and big shuttered windows, wooden patios and abundant greenery, it truly feels like a 100 years from the modern Japanese metropolis.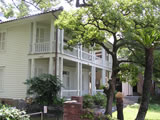 (Storyland)
Storyland is in "The Former Missionary House" and has a collection of over 1500 books in English for children, mainly picture books, and book-reading events are held regularly.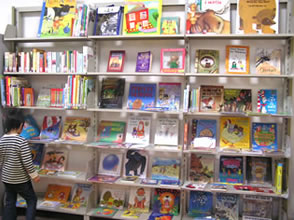 Everyone is welcome to attend and many of those that come are parents with young children who are interested in English, books and storytelling. The students from Kwassui University who are studying Child Education or English, for example, run many of the events.
The theme of my event was the moon so the Kwassui students prepared a moon story, dance and activity based on Eric Carle's story "Papa, Please Get the Moon for Me" which they also read.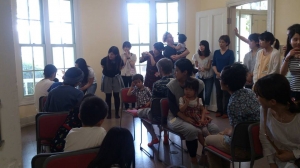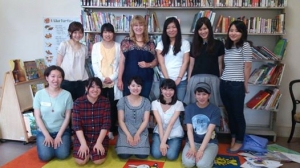 (Kwassui students and me!)
I read Lily and the Moon and we did some songs, games and a craft session where everyone made a moon flap picture and drew what image they would like to see on the moon.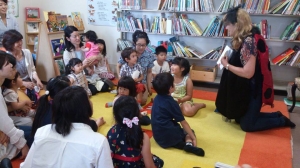 (Lily and the Moon)
Spending time like this, reading stories, stretching our imaginations, enjoying music and movement and making simple crafts by hand, these are very special moments that can only take place through the dedication of people like Karen.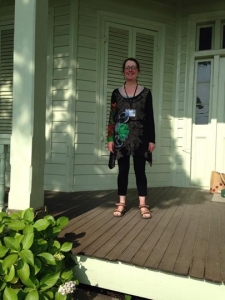 (Karen)
Stories bond people, stories inspire the imagination and Storyland nurtures the spirit of the storyteller.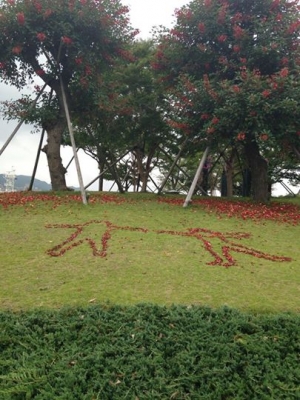 (Spotted in Nagasaki Seaside Park)
http://www.kwassui.ac.jp/university/storyland/storyland.html