2014.06.24 Tuesday
Stacy Strawberry 電子版絵本
多聴多読マガジン 2009年8月号別冊『英 語の絵本 読 み聞かせスタートブック』の綴じ込み付録絵本 Stacy Strawberry が音声付きデジタル絵本になりました.
The picture book "Stacy Strawberry" that I wrote for inclusion in the "Picture Book Reading Starter Book" (2009) for the Cosmopier publishing company has now been made into an e-book with narration.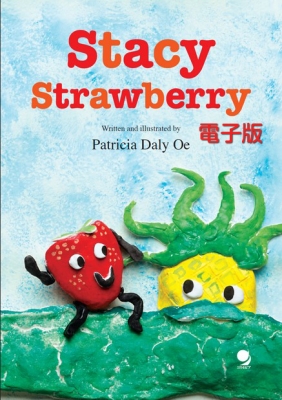 イ チゴの Stacy Strawberry は友だちの Peter Pineapple に とても憧れています。 Stacy もパイナップルになりたいと思っています。
大きくて黄色い 体、トゲトゲのりっぱな髪の毛……。
でも、イチゴはパイナップルになれるのでしょうか?
Stacy はパイナップルになるために、いろいろなおもしろい工夫をします。
The story is about Stacy the Strawberry who wants to become a pineapple like her friend, Peter Pineapple, who she adores...but can Stacy become big and yellow like a pineapple? What can she do to make her hair spiky?
Can Stacy Strawberry really become a pineapple?
As well as the unusual story, young children enjoy the repetition, the lively characters hand-made from light clay and the names of the fruit.
The e-book can be downloaded from the Cosmopier online shop.
細かいことはこちらです:
http://www.cosmopier.net/shop/index.php?main_page=product_info&products_id=848
Trackback

url: http://patricia-oe.jugem.jp/trackback/160