2015.12.04 Friday
Picture book events in Kanazawa, November 2015
I enjoyed meeting such a great group of children, parents and teachers in Kanazawa
over the weekend of 28th and 29th November. The theme was stories, rhythm and songs.
It's always fun to make shakers for everyone to shake to the beat or syllables, chants or songs.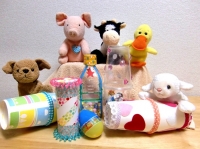 The children and parents at Mari Nakamura's school, English Square, enjoyed making simple
shakers at my workshop by decorating a pet bottle and filling it with a little rice.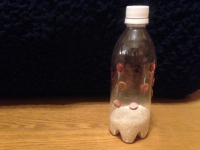 First I read Milkshake Shake, then we all shook our shakers to the rhythm of the story and the song.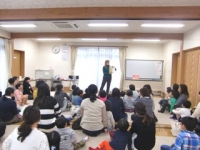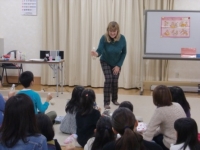 Then I read Blue Mouse, Yellow Mouse and children made their own original chants connected to the story.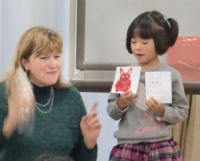 https://www.youtube.com/watch?v=0-bMMcsH9NA
I was really impressed with how eagerly the children joined in with the activities and songs.
They showed their originality in decorating the shakers, colouring their own pictures and making
their own chants within a short space of time.

The next day I gave book-readings of Five Little Ducks and Milkshake Shake at Meibundo Beans
book store and Mari Nakamura gave a presentation to teachers on how to use picture books to teach
the skills needed in the 21st century.
I would like to thank Mari Nakamura, the parents and students at English Square,
staff and friends of mpi Phonics who organized, attended and helped us at the Meibundo
bookstore event, those in charge of the event at Meibundo bookstore, Miyoshi and everyone
who attended the event at the bookstore.
I hope to be back in Kanazawa again before too long!