2016.09.20 Tuesday
Can We Be Friends? New picture book release
I wrote the newly released picture book for young learners "Can We Be Friends?" (published by mpi and illustrated by Fumie Maejima) together with Mari Nakamura.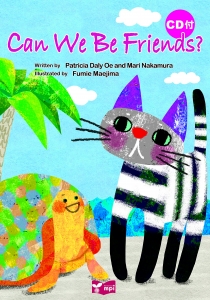 It is the story of a friendship between a cat and turtle. Can they be friends even though the things they can do are quite different?
Children will enjoy trying out the actions illustrated in the book and following the friendship between the cat and turtle as it develops. It can help young learners of English to understand how to use the "I can.." and "I can't..." structures and can be used as a basis for many classroom activities if used for teaching.
The book includes a CD with narration of the story, rhythm reading and a song.
Available from Amazon Japan or mpi