2019.02.27 Wednesday
Writing for Oxford University Press
My story 'Hana's Yellow Hat',
and reading text 'Harvest Moon Festivals'
are part of the Dragonfly Reader series,
published by Oxford University Press,
which helps students to develop good
reading habits while exploring Asian cultural themes and values.
Schools can purchase Dragonfly Readers from Oxford University Press.
Learn more about the series at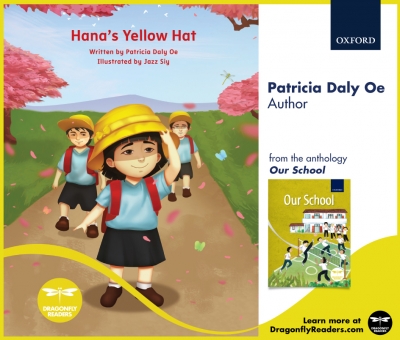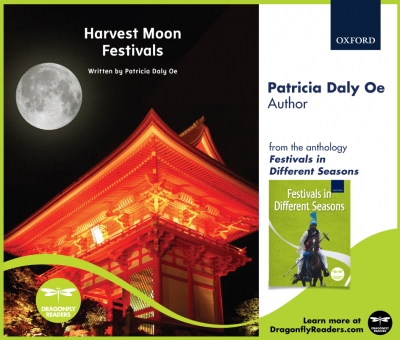 Dragonfly Readers is a new 9-levelled graded
reading series which promotes reading for
pleasure and develops reading comprehension
skills, while exploring Asian cultural themes and values.
'Hana's Yellow Hat' is in level 1 and 'Harvest
Moon Festivals' is in level 2 of the reading series.
I have also written a reading text for level 3
which will be published soon and will be writing 2 texts
for level 4 during the next few months.
Each story or reading text is in an anthology
which contains 3 stories or texts on a certain theme.
The theme of the anthology for 'Hana's Yellow
Hat' is 'Our School' and the title of the anthology
in which 'Harvest Moon Festivals' appears is
'Festivals in Different Seasons'.
'Hana's Yellow Hat' was really fun to write
but quite a challenging task.
There were a limited amount of words and
vocabulary that I could use because this was a
level 1 reader but I wanted to introduce the cultural
themes of how the school year begins in April in Japan
when the cherry blossoms are usually in bloom,
how the first graders walk in orderly groups to school
for the first month or so with a leader who carries a flag
and how many children wear yellow hats and carry the
famous randoseru (satchels or backpacks) on their backs.
'Harvest Moon Festivals' was interesting to write because
it involved a lot of research.
In this reading text I introduced the way that the harvest
moon festival is celebrated in Vietnam, China, Japan and Korea.
I learned a lot!
I was particularly surprised at how different the moon cakes are
in each country (colour and shape) and just how big the festival
is in China (people usually get several days to even a week's
holiday for the Harvest Moon Festival in China,
compared to it not even being a holiday in Japan).
As the Dragonfly Readers have only just come out, they are
currently only being sold directly to schools in Mainland China,
India, Pakistan and Malaysia
and are not sold in bookstores or in Japan, yet.
Personally, I think that this series would be really wonderful
for children to be able to read in Japan because they can learn
so much about cultures in other Asian countries.
In Japan, we already have many books for children that cover
European, American and Australian customs, holidays and
festivals, but how nice it would be for children to learn more
about the countries that are close by.