2019.09.09 Monday
Picture books and activity books to help raise children bilingually
For children to develop language skills it is
important to give them a lot of stimulation
with books, toys, walks in the park, visits to
museums or amusement parks, cooking
together etc. and a chance to communicate
about all of these experiences.
To introduce a second language to children
it is good to use the same kind of input
and to start offering these materials and
experiences to the child when they are very young.
Picture books are an ideal way for children to
develop an interest and ability in a second
language and here I would like to introduce
the mpi Phonics series of picture books with
accompanying activity books.
All of the books use simple language with a
simple story and attractive pictures. Each
book tells a standalone story i.e. the theme,
characters and storyline in each book are all
completely different.
The activities in each activity book are simple
and fun and linked to the theme and
vocabulary used in the specific picture book.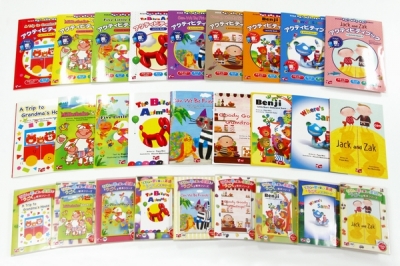 So there are nine picture books, nine activity
books and nine DVDs in the series.
Originally designed for teachers to use with
young learners in the classroom in Japan,
these books are also just right for parents/
grandparents to use with young children at
home.
As there is close supervision of the child by
the parent/grandparent, it is possible to use
the books in this series for a much younger
age group than in a classroom setting.
I have been reading the picture book
A Trip to Grandma's House to my
grandchild, Melissa, since she was a
small baby.
Melissa's mother is British/Japanese and her
father is Japanese and she is being raised
bilingually in Japan.
Even at two weeks old, she used to look at
the pictures in the book intently and tune in
while the book was read to her.
By the time she was three she had already
memorized the whole story and was "reading"
it to her baby brother.
At this stage I introduced the activity book as well.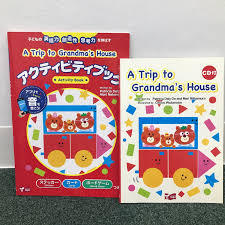 The story is about a family of bears who are
helped by shapes (circles, triangles, rectangles
and squares) to get to grandma's house.
They encounter various problems such as a
river, a mountain and darkness and the shapes
help them overcome these hurdles.
So the activities in the activity book are based
on shapes, nature, animals and family
members.
There are stickers, coloring and matching
activities, as well as a board game and pages
for the child to make his/her own pictures.
Melissa particularly liked the sticker activities
and searching for shapes in her surroundings.
Even now, days later, she is still telling me
that she has found a rectangle shape in the
door, or that a table she finds is circular.
These activity books are a springboard for
lots of conversation and are really great fun
for family members to enjoy together!
For more information in Japanese see mpi Phonics